Allwinner A64:the Most Cost-Efficient 64-bit Tablet Processor! Priced at $5
January-2015
Today, Allwinner Technology unveiled its first 64-bit processor Allwinner A64 for tablet application. Priced at $5, Allwinner A64 definitely will be the most cost-efficient 64-bit tablet processor ever!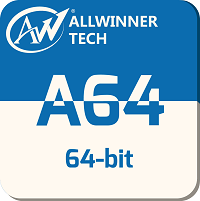 Main features of Allwinner A64 includes:
64-bit Cortex-A53 architecture
Supports H.265/H.264 video decoding in hardware, and supports HDMI 4K display
Supports various DDR memory types, making the BOM cost more competitive
Supports eMMC 5.0 for better IO performance and enhanced data throughput capacity
Allwinner's exclusive patented SmartColor display technology, delivering more vivid and eye-pleasing visual experience
Supports the latest Trusted Firmware security architecture from ARM
As the first design house in China that have distributed Android 5.0 Lollipop to its tablet lineup, Allwinner Technology will keep the momentum and release Android 5.0 to Allwinner A64 when it comes out. It's also worthy of notice that the Linux kernel that Allwinner A64's based on upgrades to the latest 3.10 version, perfectly matching with the 64-bit architecture and Android 5.0 operating system.
More details about Allwinner A64 are to be disclosed in the near future.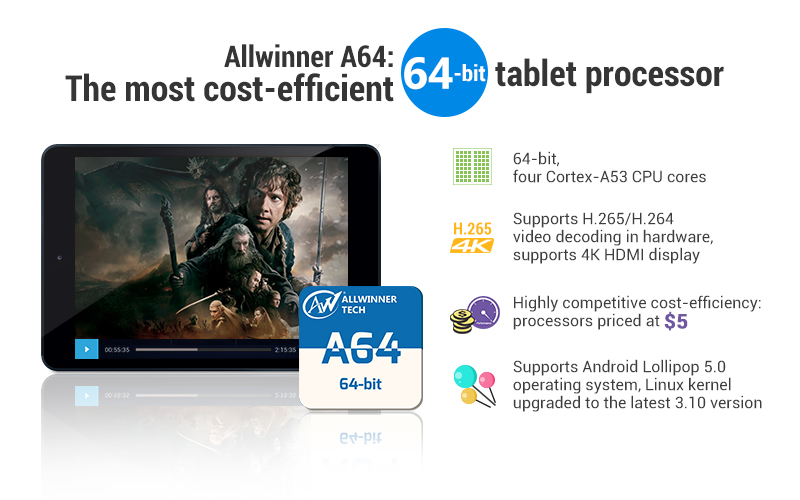 About Allwinner
Allwinner Technology is a leading fabless design company dedicated to smart application processor SoCs and smart analog ICs. Its product line includes multi-core application processors for smart devices and smart power management ICs used by brands worldwide.
With its focus on cutting edge UHD video processing, high performance multi-core CPU/GPU integration, and ultra-low power consumption, Allwinner Technology is a mainstream solution provider for the global tablet, internet TV, smart home device, automotive in-dash device, smart power management, and mobile connected device markets. Allwinner Technology is headquartered in Zhuhai, China.
www.allwinnertech.com
Follow us on Twitter @Allwinnertech